Thinking about
My Funeral Wishes
Why record
Your Funeral Wishes
We are often asked about funeral pre-planning as some people wish to make an advance payment towards their funeral costs.  However, pre-paid funeral plans are not the only option.  It may be helpful to simply record your funeral wishes – this can greatly assist your family members, friends or Executors who will be making the difficult decisions at the time.
considering the
Benefits of Funeral Wishes
The benefits of recording your funeral wishes include:
Making things easier at the time of need for your family and friends.

You can store as many copies as you wish, with as many people as you wish, including us as your chosen Funeral Director.

Giving you peace of mind that your wishes will be taken into consideration.

It can be as simple or detailed as you wish it to be.

You can review and amend your wishes at any time.

No upfront costs – there is no charge to register your funeral wishes with us.
Funeral director
How Can We Help?
Our experienced Funeral Arrangers will be pleased to guide you and answer any questions you may have.  Your discussion will be treated in the strictest confidence and there is no charge for this service.
Please contact us to make an appointment.
Should you wish to complete the details yourself, you can do this online or download a copy of the form using the options at the foot of this page.
Alternatively, a copy of the form can be collected from any of our branches or posted to you.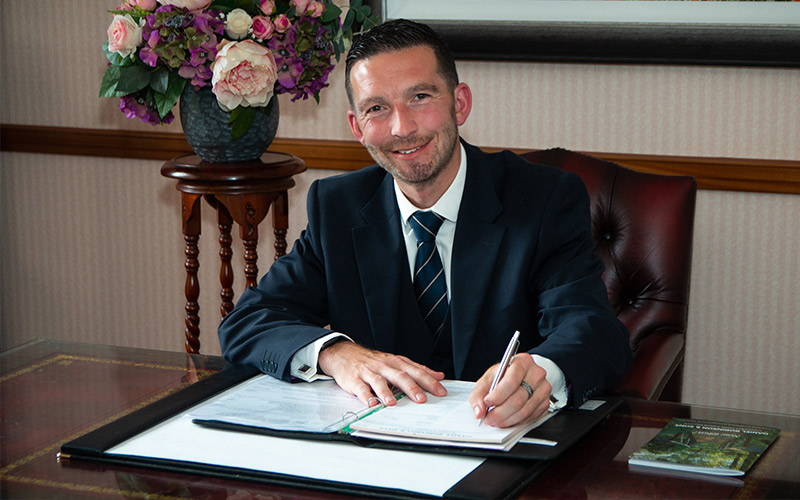 Completing "My Funeral Wishes"
On Behalf of Someone Else?
Our "My Funeral Wishes" form can also be used to start a conversation with a family member or friend whose funeral you may be asked to arrange, so you are fully informed when the time comes.
Having the choices noted in advance can be very helpful to the person arranging the funeral, especially if the family is struggling to make decisions regarding the options available or if there are differences of opinion between family members.
We would be pleased to offer any help and assistance in this respect.
sharing your completed
"My Funeral Wishes" Form
Once it's completed, we would recommend that you share a copy with:
Your Executor.
Your family/friends/representative.
Us – it will be stored securely until the time of need.
And don't forget to keep a copy for yourself!
Please note that the Funeral Wishes form is not a pre-paid funeral plan.  The information recorded is intended to inform and guide your Executor or the person arranging your funeral and is not legally binding.
If you wish to discuss paying for a funeral in advance, we would be pleased to put you in touch with a Trained Adviser from Open Prepaid Funerals.  Further details about pre-paid funerals can be found here.
How to
Share Your Form
If you would like to share your "My Funeral Wishes" form with us to keep in a safe place please use one of the buttons below. You can either submit the form online or you can download a copy which you can either email to funeralwishes@drobinson.co.uk or deliver/send to one of our branches. All completed forms will be forwarded to Daniel Robinson & Sons where they will be safely and securely stored.